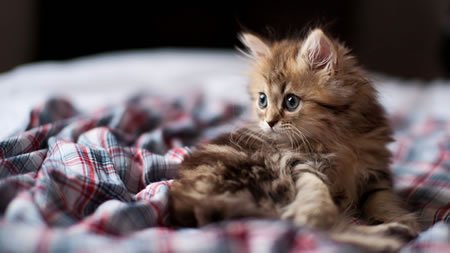 We do not have a central shelter. All of our cats and kittens are cared for in cage-free volunteer foster homes so we know exactly what their personalities are like and can help you select an active kitten or a calm lap cat! Kittens are available for adoption in pairs or to a home that already has a kitten/young cat in residence. Sorry, but we do not adopt young kittens to families with children under 6 yrs old due to safety concerns for both child and kitten. Our adoption process starts with an application which we are happy to e-mail, fax or mail. Once approved, applicants are welcome to meet our adoptables in their foster homes on an appointment basis. Pre-adoption home visits are the final step in our adoption process. While we do consider out-of-area applications (limited to 60 minute drive-time), adopters must be willing to personally meet with us and visit with the feline(s) of interest. Our ability to finalize an adoption is also dependent on our being able to enlist the help of a rescue partner for the required homevisit. We do not ship or otherwise transport our cats.
We participate in a public adoption event on most weekends . Only a few of our cats attend this event each week so please contact us in advance for it's location (varies) and if you want to meet a specific cat. We will make every effort to ensure he/she is there!
Adoption fees, which range from $115-$145, include testing for feline leukemia/aids, age appropriate vaccinations, deworming, flea/earmite treatment and spay/neuter surgery. (special consideration for those who adopt pairs). For kittens who are too young to be altered prior to placement, the fee is reduced, but we require a spay/neuter deposit which is refunded once the surgery takes place. We are happy to provide adopters with information about low cost options for this important procedure.
Adopters also receive a certificate for a free wellness exam at any Caring Hands Animal Hospital.